For the classic motor sport – the taller drivers' choice. The Avus seat is named after the famous Avus racetrack in Berlin, which used to be the fastest in Europe since the late 1920's to the mid 80's. This new classic sport seat comes with a higher back, higher side support, lowered seating position and option for 5 and 6 point-harness installations.
Similar to the Nurburgring seat, this seat is the perfect choice for the taller driver looking for more side support for sport, race, and rallies. Custom modifications are available for specific needs, for easy entry and 3 point usage. With a sturdy, coated, steel tube frame, duralastic belts and fire resistant padding, it meets the latest requirements for 5-6 point harnesses and the attachment points for the Trips device.
This seat is nonadjustable in itself, so please install to fit for tilt and height. Choices of headrests and styles. The Avus has the look of the Nurburgring and the comfort and dimensions of the Rallye to accommodate tall drivers who enjoy classic rallies and vintage racing.
Avus 5102 leatherette/ basket wave
Avus 5100 leatherette/ corduroy
Avus 5103 leather/ perforated leather
Avus 5101 leather
Avus 5104 leather/ corduroy
AVUS 5102 LEATHERETTE/ BASKET WEAVE
Basket weave has always been the choice for the designers of the 60 and 70's. With it's classic pattern and the period leatherette the Avus blends into the interior of your classic car. Other colors are available please contact us for your custom Avus seat.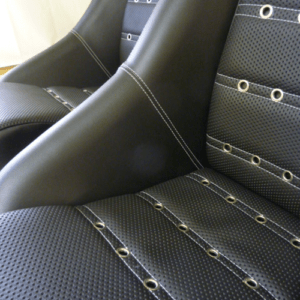 AVUS 5100 LEATHERETTE/ Corduroy
The classic choice for the taller driver. Comfortable German corduroy with the period leatherette, a great choice for a period classic car. Upon request we can also make the Avus seat with the 356 Speedster slots or with a plaid material.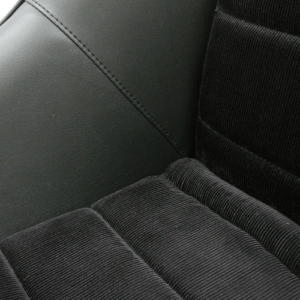 AVUS 5103 LEATHER/ Perforated leather
If you like perforated leather, here is a seat to fit you and your car. Ask for available colors and perforation patterns. The Avus seat can also be fitted with openings for the 5 point belts.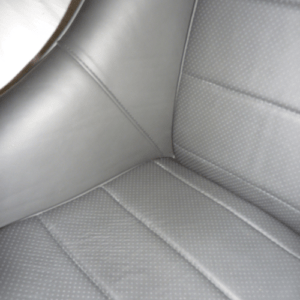 AVUS 5101 LEATHER
The top of the line Avus seat, the finest leather with our craftsmanship to fit your car and interior combined with your needs for a slightly taller seat. Please ask us for other colors or patterns to match your interior. This seat can be fitted like all our seats, with lumbar support and seat heaters.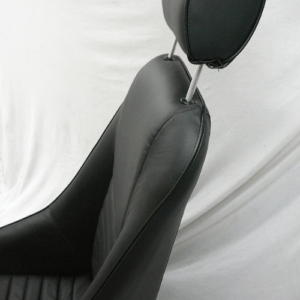 AVUS 5104 LEATHER/ CORDUROY
Here you have the combination of fine leather together with German corduroy to give you the comfort and grip when driving your classic car. Houndstooth, plaid and other fabrics are also available to fit your car, period and interior.