We also offer the choice of headrest and styles to match your car, interior, and model year.The prices below reflect the optional selection with your seat purchase. You can also buy the headrest separately and we will quote you accordingly.
The Avus, LeMans, MonteCarlo, Nurburgring, TransAm, Rallye and Sebring come with the fixed height adjustable headrests. The RSR, Sport S and ST come with height adjustable and tiltable headrests of the earlier and later headrests style. As option we offer now for all seats to upgrade to the tilting headrest and to choose the matching headrest for your car.
The Early Style
The Early Style headrests are a remake of the headrest used on the sport seats in the 1960's and early 70's. Adjustable in height and tilt is it available in all fabrics to match your seats. It comes with the Sport S but is available as an option for all seats  at $139

The Late S
The Late S headrests was used from the early 1970's on and is also known as the "peanut" style headrests.
Like Early Style headrests, it is also adjustable in height and tilt and available in all fabrics to match your seats. It is also available for all seats as option at $139

The LeMans style
The LeMans style headrests is the typical headrest for the mid-engined 914. It is adjustable in height and is also available for all other seats at $135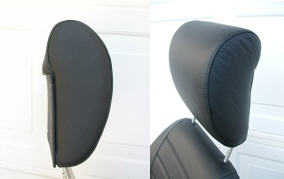 The round or oval
The round or oval headrests fits all seats available at $ 135. It can also be made to match your custom seats. 

The Scheel type
The Scheel type headrest was used on the Hockenheim or the Sport S and can be made to match the Scheel corduroy seats. Typical with leather or leatherette sides and seat center materials in the middle Starts at $ 165