The historic racetrack that was one of the fastest tracks in the world and Porsche went there with 911 R models to establish some endurance records. GTS Classics named the seat after the track to honor the men and cars that were so successful there. 
This classic bucket seat was featured in the very early racing and rallye cars. The Monza was one of the first fiberglass seats with more side support but was not available with headrests. Porsche featured this seat in the famous R Cars. 
The GTS Monza has an easier entry than the R seat, but taller side support than the ST seat, so it is a great combination of both. We now offer the new GTS classics version of this seat with the option for 5-point openings and the Trips device attachment as well as headrest supports incorporated into the design. 
Available in 2 versions, as in the original layout ,completely covered in leatherette or leather, or in the design of the R or ST seats with the glossy black back and leatherette or leather only extended to the bolsters. Even the duralastic belts for additional comfort are now available and part of our redesign. 
GTS Classics offers the original style covering in leatherette with corduroy or basket weave, but can provide any custom choice of materials, adjustable lumbar support and German grommets either in brass or nickel. Custom choices of foam thickness for a racy look and appearance, or a more comfortable style are available.  
GTS Classics is proud to have these custom seats now available for the classic R applications. Available in the leather, leatherette and corduroy application and also in raw fiberglass finish for the "authentic" vintage look.
Monza 6800 leatherette/ corduroy
Monza 6802 leatherette/ basket weave
Monza 6800 leatherette/ corduroy
This GTS classics seat with it's corduroy centers, holds you in place, as it held rallye drivers like Larousse firmly in place while taking the tight turns of the Turini or the tight corners of Corsica. Remade to the original specifications for classic R. Available in various colors upon request, as well with grommets like the originals.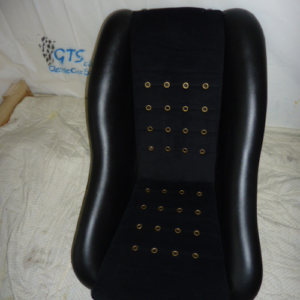 Monza 6802 leatherette/ basket weave
The classic choice for the passenger side in all R's .This super lightweight seat is made to the original specifications, to give your car a perfect period R final detail.