In Solitude, near Stuttgart, Germany, has always been legendary for its track and its races. The top models of the Porsche 356 series were the Carrera GT and Abarth GTL. We designed the Solitude seat for the 356 Roadsters, Speedsters, GT's and Outlaws as a perfect balance of old style, better side support and safety features that were not included with the original Speedster or GT seats.
The Solitude resembles these 356 seats, with added comfort, headrest option, 5-point harness provisions, Trips device and map pocket options. The Solitude offers the driver a secure hold and support that is lacking in the original seats. The seat has a steel tube frame.
Available in nearly all configurations.
Solitude 6301 leather
Solitude 6302 leatherette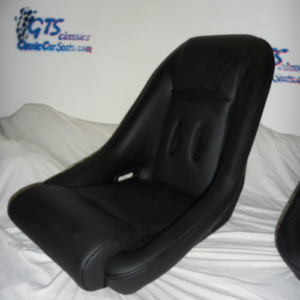 SOLITUDE 6302
leatherette