The new LeMans is a classic, handmade, custom seat with a firm support. Like all GTS Classics custom car seats, it comes in 4 standard configurations, leatherette with basket weave or corduroy, and in leather with corduroy or a perforated leather center.
The configurations were used as well in the Recaro sport seat and in the Porsche seat and are the classic choices for the classic seats.
The LeMans is currently our lightest seat and is used as a vintage race seat as a bolt in replacement and upgrade for the Porsche 914.
Again improved and redesigned to give a lower and less forward seating position, it now allows for a much easier installation with sliders in many other cars and fitting for more drivers and their passengers. All new safety features have been incorporated in the latest production.
Some customers had the seat installed in the Porsche 904 replica, TR6, and Mini Coopers. We gladly modify the seat to your needs or accomodations, pattern or with any kind of custom choice materials and colors.
LeMans 5202 leatherette/ basket weave
LeMans 5201 leather
LeMans 5200 leatherette/ corduroy
LeMans 5204 leather/ corduroy
LeMans 5203 leather/ perforated leather
LEMANS 5202 leatherette/ basket weave
The LeMans seat in the classic car seat configuration. The basket weave was used from the mid 60's until the early 70's in the Lotus, MG, Triumph, Mercedes-Benz, BMW, Porsche, and Volkswagen. Available in custom colors upon request. The headrest shown is the configuration for the Porsche 914, made to fit into the original rear padding. Other headrests available, please specify when ordering.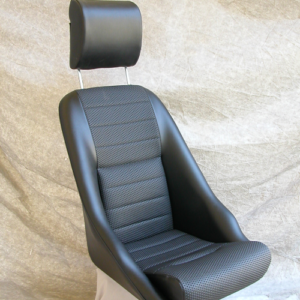 LEMANS 5200 leatherette/ corduroy
The LeMans seat with the fashionable corduroy was used from the late 50's to the mid 70's. The classic car seat look, with great seating comfort. It comes with the classic configuration of the racecars to the luxury cars of that period. We use German corduroy to ensure the high quality. Here is the LeMans shown with the square headrest.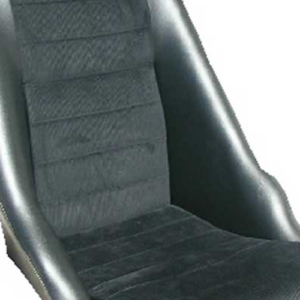 LEMANS 5204 leather/ corduroy
A classic – the LeMans in the finest leather with German corduroy centers. A classic car seat at it's best. A great upgrade with firm support and genuine leather. Pictured here with the Porsche 914 headrest, it can be ordered with the square headrest, which can be used on all other classic cars. GTS classics also offers an adjustable tiltable headrest. Recaro and Scheel used these configurations for their top of the line seats. It is also available in other colors upon request.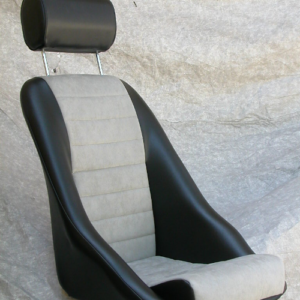 LEMANS 5203 leather/ perforated leather
The LeMans in the top configuration . Smooth leather at the sides and perforated leather for the center, it is the definition of a classic car seat. As in all LeMans classic car seats, it comes with an opening for the lap belt to accommodate the 5-6 point harness as well as the option for the waist belt holes in the frame and the option for our Trips device.